Snow Tubing in Winter Park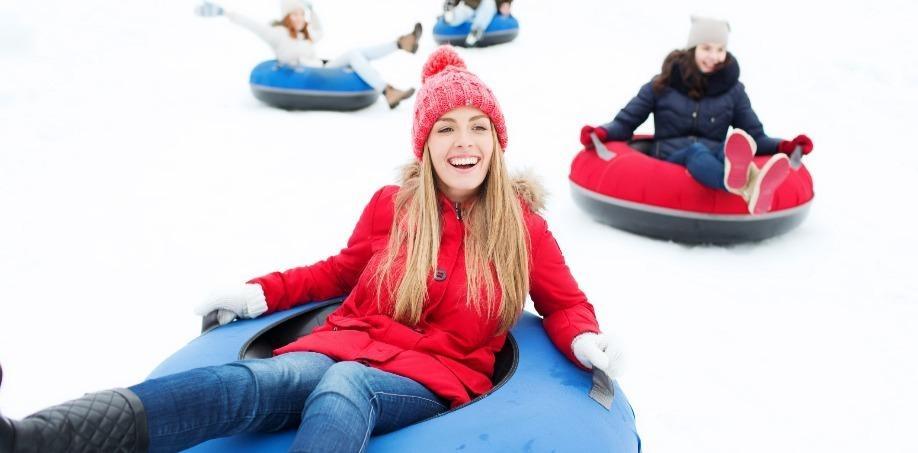 For many, sliding down a snow-covered tubing hill brings back nostalgic childhood memories. There's nothing quite like the wind in your hair! If you want your family to experience that same feeling this year, try snow tubing in Winter Park, Colorado. This simple activity is fun for adults and kids alike. Just hop on a big inflated tube, pick up some speed, and enjoy flying down the mountainside. Here's how you can plan the ultimate Winter Park tubing adventure.
Top 3 Places To Go Snow Tubing In Winter Park
1. Winter Park Resort
The Coca-Cola Tube Park at Winter Park Resort is the newest snow tube park in Colorado! Here you'll find four tubing lanes, banked curves, and a conveyor lift to take you back to the top. After a few runs, warm up in the Hill House Lodge and enjoy hot chocolate, fresh-baked cookies, snacks and other bar offerings. The park is open from late November through April. Regular hours are from 10 a.m. to 6 p.m.; there are also select evening hours during different parts of the season from 6 to 8 p.m.
Note: Tubing times often sell out, so try to reserve your tickets in advance. Reservations can be made by phone at (800) 729-7907. You can also purchase tickets in person at the tubing hill sales desk based on availability.
2. Historic Fraser Tubing Hill
Just minutes from Winter Park is the Historic Tubing Hill in Fraser, Colorado. This park has been family-owned and operated since 1971 and features scenic views and fresh mountain air for tubing. Enjoy gliding down the hill on a tube, then relax as the lift brings you back up the hill. When conditions permit, riders can even hook their tubes together for maximum speed. Guests can purchase food, drinks and snacks at the concession stand or bring their own picnic. Single tube rentals are available. Reservations are available but not required, and groups larger than 15 people are eligible for discounts. The tubing hill is open seven days a week from 10 a.m. to 10 p.m. (conditions permitting).
3. Colorado Adventure Park
Did you know that Colorado Adventure Park is Grand County's fastest and largest locally-owned tubing hill? This Winter Park tubing facility offers a variety of family-friendly activities, including tubing, double tubing and snow scoots. Single riders can grab a tube and take an easy ride up the Magic Carpet lift. At the top, choose from slow and easy terrain to fast and wild runs. The park also has a warming hut with concessions such as beer, wine, s'mores and more. Reservations are recommended for parties of 15 or more people. Group discounts are available. Colorado Adventure Park is open seven days a week from 10 a.m. to 10 p.m. beginning mid-November.
Prepare For Your Winter Park Tubing Adventure
Never been snow tubing before? There's no need to worry. Stay Winter Park has a few tips to ensure a safe and successful day outdoors.
Dress in warm layers and preferably a waterproof outer layer.
Wear comfortable winter boots. Ski boots are prohibited.
Consider bringing a change of clothes for the kids.
Bring helmets or rent one if available.
Designate a meeting area.
Check the snow conditions before heading out.
Make Your Reservations With Stay Winter Park
Now that you know the best Winter Park tubing hills, it's time to start planning your family vacation! Explore our vacation rentals to find your perfect home-away-from-home and be sure to take advantage of our Winter Lodging Deals. With condos, townhouses, private homes, and cabins, Stay Winter Park has a variety of accommodations to choose from.
If you're traveling with a large group or want to be close to tubing, we recommend any of our gorgeous Grand Park Neighborhood rentals. Take your pick of upscale condos or lovely private homes - some that are pet friendly and have a private outdoor hot tub! Find out when it's available and book your stay today either online or calling one of sales agents!