Winter Park Jazz Festival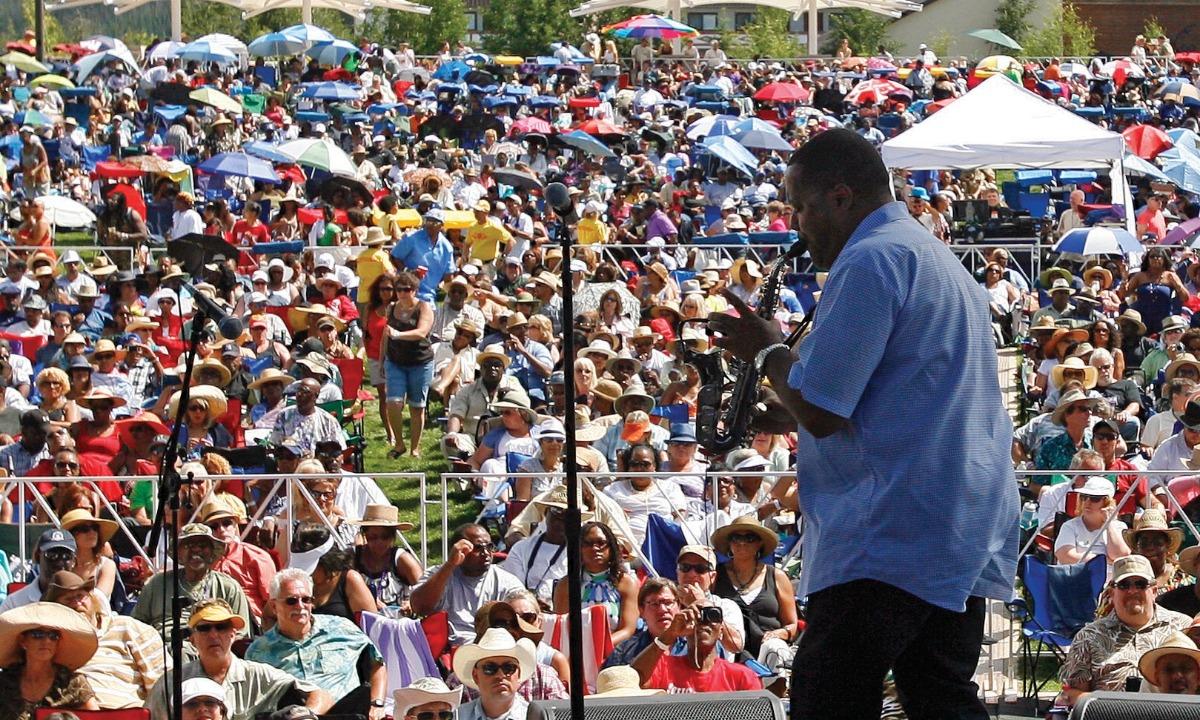 Book your Jazz Festival lodging!
Choose from over 200 vacation rentals in Winter Park Colorado. We have something for everyone - book online or let our local staff help find your ideal rental. This is the 41st year for the festival so it will be memorable
Festival dates are July 20 - July 21.
---
Located in the quiet residential neighborhood of Fraser, this home is 6 miles from the Winter Park Ski Resort and the home is situated on a 0.8-acre lot and provides easy access to the free town shuttle that stops across the street. This vacation getaway has been renovated into a luxurious, high-end themed vacation home with comforts and entertain
$1,494.00
+ taxes and fees
This large and beautiful home offers outstanding mountain views and a great rental for peace and quiet that will accommodate 8 people.An open floor plan encompasses the living, dining, kitchen areas as well as half bathroom on the main level. The living room offers a very cozy spot to relax on the comfortable sofa to enjoy the flat screen TV, gas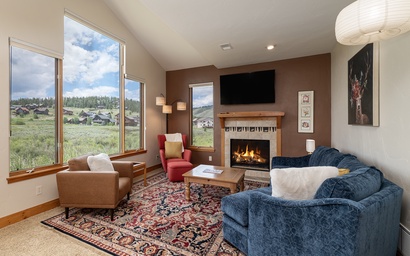 $1,179.00
+ taxes and fees
In the updated master bedroom has in room bathroom with in-floor radiant heat, new tiled shower and tub enclosure with dual vanity sinks, a queen bed and TV. You will enjoy this beautifully updated kitchen with black granite counter tops, oak cabinetry and radiant in-floor heat is perfect for chilly mornings! in this 1 bedroom 1 bathroom condo ren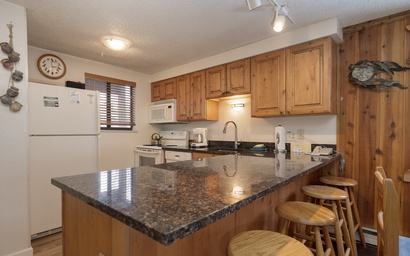 Beaver Village Unit #0621R
This unit has 443 square feet is a well appointed and renovated studio has new flooring and furnishings. Located on the 5th floor views, magnificent views of the Winter Park Resort and within 150 yard walk to the of the slopes and village. The kitchenette has granite counter-tops and stainless steel appliances including a mini-fridge, 2 burner stov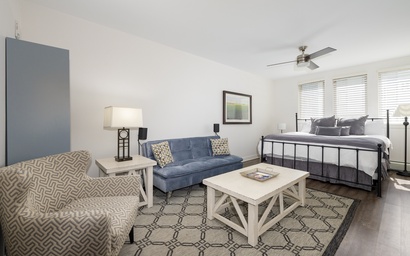 Exotic jewel tones on the walls in the living area along with furnishings and accessories in the same warm rich tones, you can enjoy the gas fireplace, flat screen TV and a private patio from this ground floor unit. This vacation rental features updates in the kitchen with cabinetry and fixtures and in the dining room that is graced by an artistic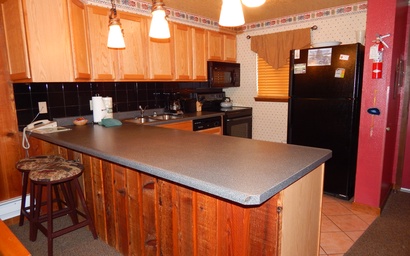 Beaver Village Unit #1113R
This comfortable and newly remodeled 2-bedroom condo offers a great option for lodging in Fraser. A large living room with comfortable sofas that surround the gas fireplace, large flat screen TV, access to the private balcony offering a view of the Winter Park Ski Resort and new hardwood flooring throughout. In the dining area adjacent to the liv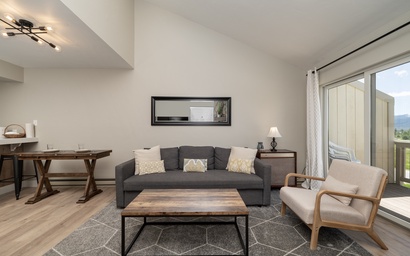 Meadow Ridge Court 18 Unit 11
Gorgeously updated two bedroom condo makes your Winter Park vacation that much better! This unit is on the third floor of the building so it will offer vaulted ceilings in the open floor plan of the main room. Hardwood flooring throughout compliments the beautiful kitchen with new wood cabinets, stainless steel appliances and counter tops includi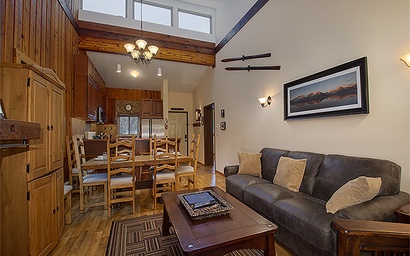 Beaver Village Unit #1734
Rated 5 stars, guests will love this completely remodeled two bedroom condo!The vacation rental has a new kitchen with pendant lighting, bright cabinets, stainless steel appliances and granite counter tops. The open floor plan consists of a living room and dining room with table large enough to accommodate six. A plush couch and chair with fireplac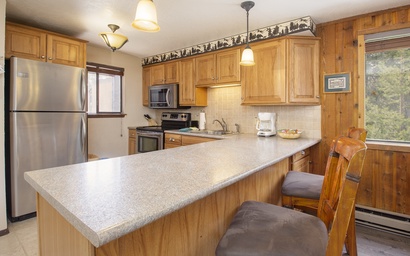 Beaver Village Unit #0721
This one bedroom one bath condo has everything you need - second floor, private deck and views of the Winter Park Resort. The kitchen is fully equipped with all utensils, dishes, pots, pans, coffee maker, microwave and 2 spots for seating at the breakfast bar. The adjacent dining area has spots for 6 people and is open to the main living area. Th
Beaver Village Unit #0623R
A wonderful vacation rental that feels like a home away from home with its distinct lodge feel with rich wood and plush furnishings in the main living area. Relax and enjoy the flat screen TV and gas fireplace – perfect for a cozy evening. Guest can also access the private deck from this room to enjoy the forested view off the second floor of the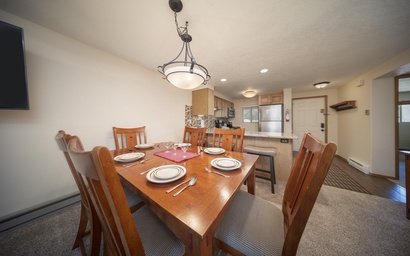 Beaver Village Unit #1123R
Nicely updated two bedroom two bathroom Winter Park condominium located in the downtown area and minutes from Winter Park Resort. Visitors will enjoy the mountain-themed condo with wood furnishings and warm touches throughout. Flat screen TV in living room. Condo is ideal for families, singles or couples looking for a mountain retreat for their win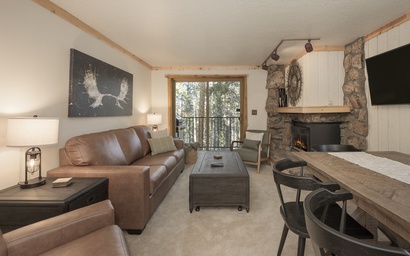 Beaver Village Unit #1724
A wonderful vacation rental that feels like a home away from home with its distinct lodge feel with rich wood and plush furnishings in the main living area. Relax and enjoy the flat screen TV and gas fireplace – perfect for a cozy evening. Guest can also access the private deck from this room to enjoy the forested view off the second floor of the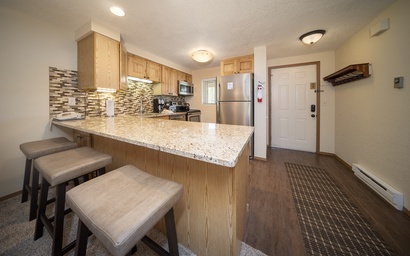 Beaver Village Unit #1123
---